Rooms and Apartments – Accommodations Costa Rica
We offer rooms and apartments
in Costa Rica in the Paraiso Cocodrilo Lodge near Sámara, which is located a 10 minute walk from the beach Buena Vista. Spacious and comfortable rooms and apartments are suitable for solo travelers, groups, couples and family's. 
Our individual hotel lodge
Paraíso del Cocodrilo
, in the province of Guanacaste in Costa Rica, is only a few kilometres away from the seaside resort Sámara. Near the beautiful beach of Buena Vista, the hotel offers comfortable, spacious apartments and rooms in an individual style.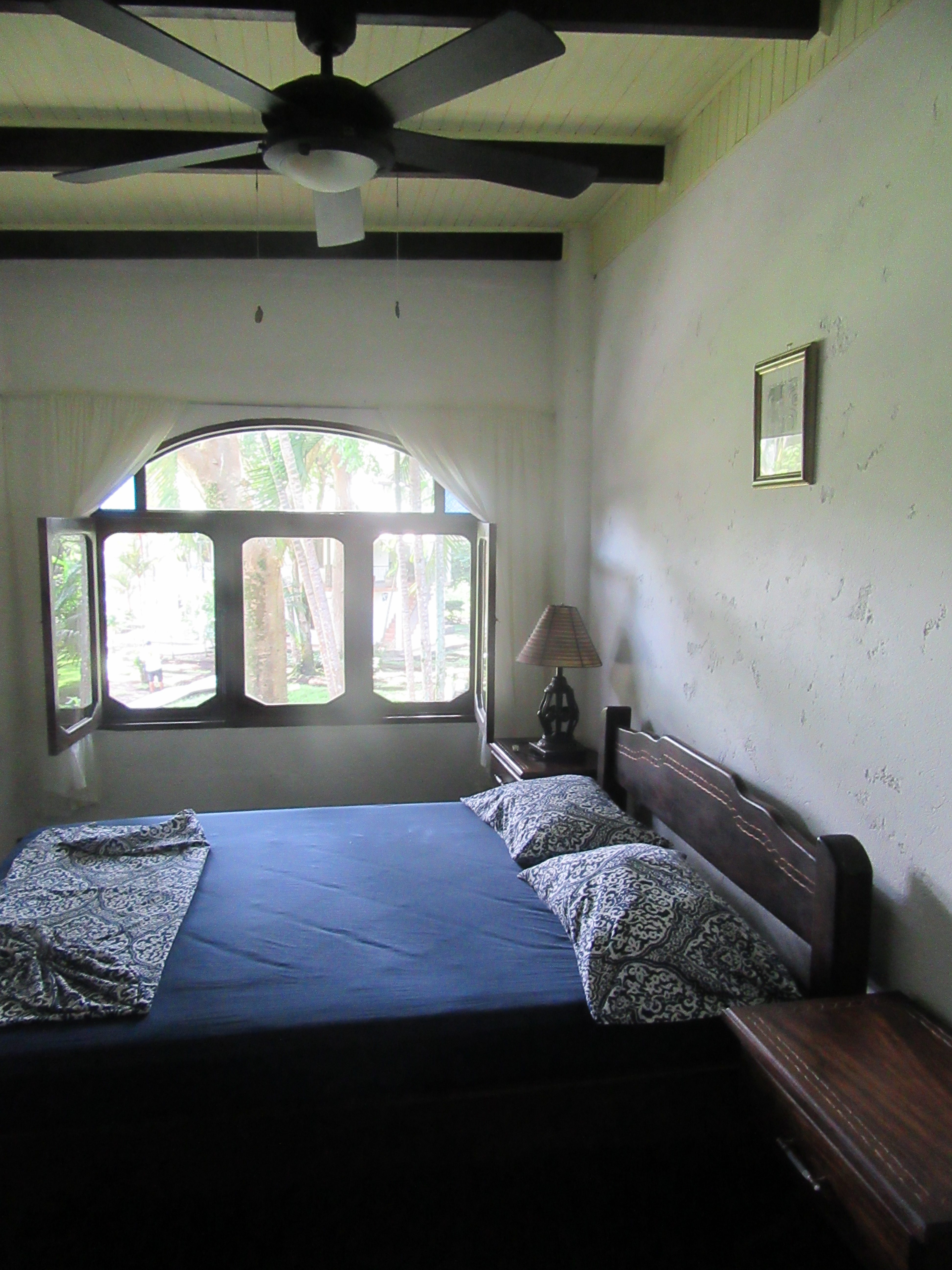 Rooms and Apartments – Double Bed Room
Up to four persons can sleep in two double beds in our large double bed rooms. The rooms include a refrigerator in addition to a private bathroom. The rooms are completed with a terrace in our Jungle Garden with a little sitting space. All rooms also have hot water and get cleaned daily.
Apartments
We provide apartments in two different categories. Three double beds, together with room divider drapes, are available in the spacious apartments. The smaller apartments can house four people in two double beds. The kitchens in the flats are well-stocked with a gas range, a refrigerator, and all the dishes and cooking utensils that are required. We also have a Apartment with two separate rooms for 5 people. Every Apartment has a private terrace with a eating table and comfy chairs. Additionally, each room has a spacious bathroom that is separate. A/C, The Lodge consists of five individual houses that are located separately on the premises. So you will have lots of room and privacy. a kitchen that is fully equipped, and a bathroom round out this lodging.
Rooms and Apartments- Bungalow
Our lodge's Bungalow is a standalone structure located near to the Jungle. It has three double beds that can sleep six people. The bungalow offers a bathroom, a private balcony, and a kitchen with a gas stove. In Samara and the surrounding area, retail options are many. Five minutes from the lodge is a tiny market in Buena Vista. On Saturdays, Samara has a weekly organic market.
All rooms and apartments with air conditioning
Each room and apartment is equipped with air conditioning. Besides that the large apartments also have a TV and kitchen. Furthermore, these apartments also offer a terrace. In addition, all rooms and apartments have large, separate bathrooms. Likewise there is also an apartment with two separate bedrooms in our hotel. Besides that, this accommodation has AC,  as well as an equipped kitchen and bathroom. In the large garden, lined with palm trees, you can relax in hammocks. Enjoy the natural attractions or just relax by the pool. But most importantly, have a good time!
Restuarant Paraiso Cocodrilo
The Hotel
Paraso del Cocodrilo's
wonderful exotic natural garden is where our Costa Rica restaurant is situated. It is only a 10-minute walk from the Pacific sand beach of Buena Vista and is situated 7 km north of the seaside town of Sámara. On the Nicoya peninsula, in the midst of Costa Rica's natural paradise, there is a turtle conservation project. Our hotel has a fantastic cocktail bar in addition to the restaurant. Enjoy delicious meals at the Paraso del Crocodilo hotel restaurant. Additionally, indulge in a gourmet breakfast, snacks, a delectable lunch, a special dinner, and sample one of our exotic drinks at the bar.
Costa Rican specialties and cuisine from other countries
Our Costa Rican restaurant serves a variety of delicacies, including fresh, unique fish and meat. Local fisherman provide white marlin, dorado, red snapper, scampi, and lobster every day. In addition to Costa Rican delicacies, we also provide food from other countries. Of course, our menu includes vegetarian options as well.
A tropical paradise is waiting for you! 
in Costa Rica Guanacaste blue zone magic
barracuda apartments samara – vacation rentals in sámara – rentals in sámara costa rica – vacation rental in sámara – playa sámara costa rica