Costa Rica Magic Place – The Open Mind Lodge Paraiso Cocodrilo is our recommendation for your holidays in Costa Rica.
Magic Lodge –
It is an ideal place for individualists and nature lovers. The hotel offers comfortable
rooms and apartments
at affordable price-level and a variety of optional tours. Relax on the pristine beach Buena Vista or our hotel pool in a calm atmosphere. Or take a nice 10 minute walk to the beach of Buena Vista and have a closer look at the turtle project.
Costa Rica Magic Places – From the noise of big cities, to untouched sandy beaches
To make your stay as comfortable as possible, we always offer a driving service from/to the airport in San José and Liberia. The hotel offers WiFi, which is for free. Far from the noise of big cities, on untouched sandy beaches at the Pacific, in the midst of a wonderful exotic scenery, in which parrots, hummingbirds, turtles, belt animals, monkeys, pelicans and crocodiles are at home, the perfect place lies to enjoy your vacation completely.
** Hotel Costa Rica – We offer the best deal for nature freaks **
Now the most beautiful time in Costa Rica begins. Everything is green. Exotic flowers everywhere. And also the animal world is out of control. There is no better time to shake hands with sloth, howler monkey and co.
For those who want to convince themselves of the natural paradise Costa Rica, the Paraiso del Cocodrilo offers a fantastic deal. If you book a double room directly through our website, you will get breakfast in our restaurant Organico included. All meals are served from purely organic ingredients from the hotel's own and local cultivation.
Our breakfast offer – on Costa Rica Magic Places
The restaurant belonging to the hotel offers five different types of breakfast to suit all tastes. There is something for everyone, vegans or vegetarians, lovers of a hearty or sweet breakfast or those who like to try local specialties. An included breakfast can be added at our place or via booking.com for $15 p.p.
This way you don't have to take a standard breakfast where you don't know in advance what you'll be served.
Our breakfast is booked very often and is extremely popular with our guests.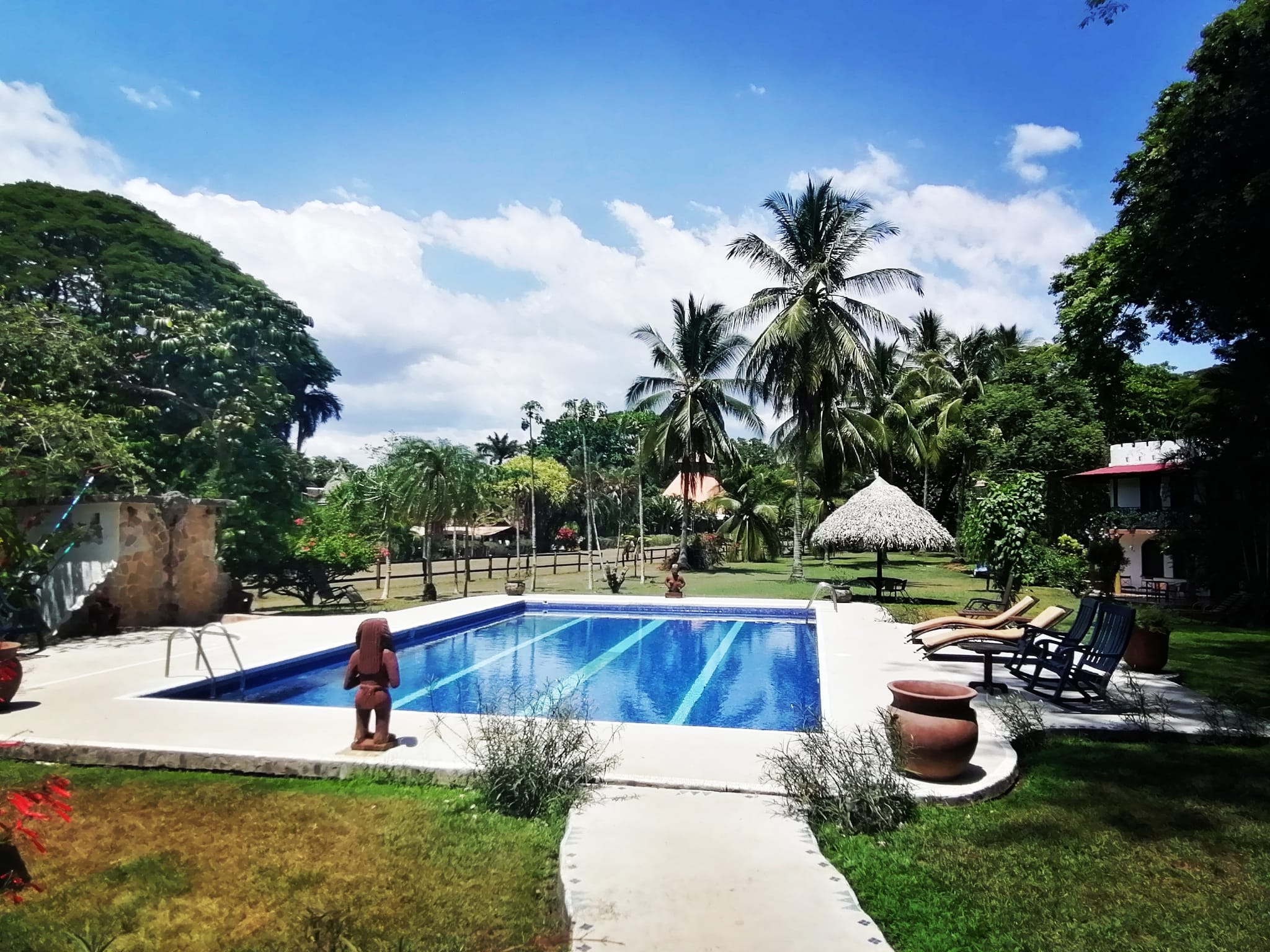 Our intimate hotel is located around 10 minutes walking to the beach Buena Vista, 7 km north from Sámara, on the peninsula Nicoya, in the province Guanacaste.
magic place costa rica samara- natural paradise Guanacaste.
Sun, fantastic palm-fringed sandy beaches, crystal clear blue sea and other attractions of Costa Rica you will find near our individual Hotel Paraíso del Cocodrilo in the natural paradise Guanacaste.
organic restaurant on magic places
The restaurant
serves national and international dishes and at our bar you can get various tropical drinks and other delicacies. From now on german dishes are served in the restaurant, here you can read more about it. The hotel offers a selection of different rooms and apartments. Our beaches Bueana Vista, Carillo and Barrigona rate Costa Rica travelers think of as the most beautiful beaches in
Costa
Rica.
More Hotel Costa Rica information
On HolidayCheck:
The number 1 of 354 hotels in Costa Rica
and under the current Top 3 rated Hotels in Costa Rica.
Road Report Costa Rica Samara
At the moment you can cross the river. The water is not high. The streets have been improved again, drive carefully!
Awarded by the Ministry of Tourism:
The Blue Flag award for the beach Buena Vista. For a natural and untouched beach with good water quality.
We are almost fully booked from 23.12.- 02.01.  It is best to contact us via this website right here: 

Contact the
Lodge Costa Rica Samara
at the Buena Vista Nature Reserve: mail to:
magic lodge:  costa rica samara
telefon:         (506) 88328195
We look forward to seeing you – hotels in samara costa rica
Costa Rica Magic Place Guanacaste – one of the seven provinces of Costa Rica and has a size of 10,000 square meters. This province means magical nature for many people.
The Hotel Paraiso del Cocodrilo hopes you will make 2023 /24 your year!
costa rica eco lodge – best hotels samara costa rica – samara beach hotels costa rica – samara pacific lodge – airbnb samara, costa rica – Costa Rica Magic Place and stay in samara costa rica.